Premium Hot Air Balloon Flight Booking Form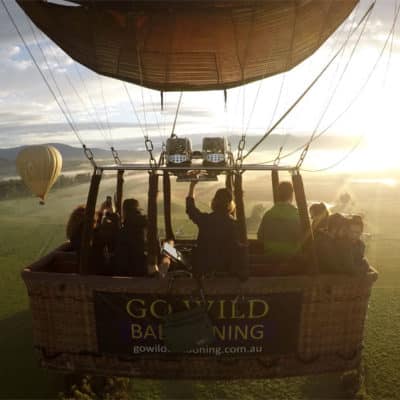 Premium Balloon Flight Rates
Hot air balloon flight Yarra Valley - book any day
Refundable within 14 days or reschedule to another day, valid for 12 months
Flight Rate                     395 pp  /  790 per couple
Add Breakfast                35 pp  /    70 per couple
Bonus - Free in flight photography on most flights at pilots discretion
Flight duration approximately one hour, allow 3-4 hours for the experience & additional time if you have purchased a breakfast package
Meeting Time:  Approx 1 hour before first light - Yarra Valley
Premium Flights are not Exclusive Flights.
Ballooning Breakfast - Sweetwater Cafe' @ Chateau Yering Hotel
Add Breakfast -  when booking click & add $35 pp
Your gourmet breakfast is inclusive of an a la carte fully cooked breakfast including a celebratory glass of Chandon sparkling wine / champagne

All dietary requirements are catered for
REMINDER - Important Breakfast Information
Until Jan 1st 2021, Chateau Yering Hotel will only cater for breakfast on a Sat, Sun & Mon. Passengers who book to fly other days & have breakfast included in their package will receive a Breakfast Voucher after the flight, so you may book and enjoy on another day at your leisure.