Go Wild Ballooning – Yarra Valley – Family Flights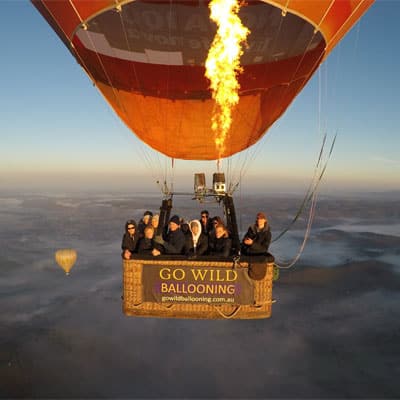 Go Wild Ballooning – Yarra Valley – Family Flights
Valid for 12 months 
Refundable within 14 days  – conditions apply, see T&C's
Adults   13 years +      355 pp
Children  6 – 12 yrs     295 pp
Chateau Yering Hotel Breakfast –  when booking click & add $35 pp
Your gourmet breakfast is inclusive of an a la carte fully cooked breakfast including a celebratory glass of Chandon sparkling wine / champagne

All dietary requirements are catered for

Breakfast not available on a Tuesday or Wednesday as Chateau Yering Hotel is closed
Fun in the Yarra Valley with a sunrise hot air balloon flight, perfect for your closest friends, family & children to come together & enjoy
Allow 3-4 hours for the ballooning experience and additional time if breakfast is included
Flight time approx 1 hr
Meeting Time:  Approx 1 hour before first light – Yarra Valley
Free car parking at our Yarra Valley meeting point, Chateau Yering Hotel
We transfer passengers from the meeting point to the launch site & back after the flight
Basket Height:  Approx 1100mm / 1.1 metres
Each basket has foot holes used for embarking and disembarking the balloon.  These also provide a perfect viewing opportunity for children.
Family Rates are not exclusive flights
BONUS – Free in-flight photography on most flights at the pilots discretion
COMPLIMENTARY – Flight Certificate emailed post flight, a great memento of your special time together floating over the Yarra Valley
PACKAGE INFORMATION
Select your package from the drop down options
Add breakfast at Chateau Yering Hotel $35 pp from the drop down list
Rates are already discounted, no further discounts apply
Select your flight date, complete the Booking Form & submit
Your Flight Itinerary Confirmation will be emailed to you immediately
Read your Confirmation and don't forget to 'check-in' with the pilot the evening before your flight between 6 – 7pm (18:00 – 19:00), this is when you will receive the information for the morning & the meeting time
Don't forget to bring a small snack (piece of fruit) & water bottle for the children, it's an early start and a few hours before breakfast
Plan a bathroom stop before arriving at Chateau Yering Hotel
All passengers require comfortable, enclosed, flat shoes, a hat and sunglasses
Most flights proceed on the scheduled day, however, if the weather is unsuitable the pilot will cancel
If you are unable to reschedule, Family Flights are refundable. Email your request to our office within 14 days of the pilot cancelling your first confirmed flight.
Alternatively, your family package is valid for 12 months and you are welcome to complete the Rebooking Link and fly with us on a better day